Phono Stage Special Ad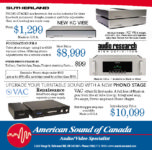 Improve your analog with a New phono stage.
Great options available and on SALE
Let us help you upgrade with the best in analog options available.
Some offering adjustable gain and loading and we can help you understand how simple it can be.
The Hi End analog customer will be excited to see brands like Audio Research, VAC and Sutherland and more.
---