Analog Accessories
Phono Stage Special Ad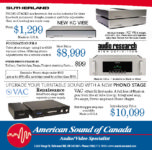 Improve your analog with a New phono stage.
Great options available and on SALE
Let us help you upgrade with the best in analog options available.
Some offering adjustable gain and loading and we can help you understand how simple it can be.
The Hi End analog customer will be excited to see brands like Audio Research, VAC and Sutherland and more.
Phono Stage Special Ad
---
Project Audio

Heinz Lichtenegger, one of Austria's leading distributors of high-end audio brands, founded PRO-JECT AUDIO SYSTEMS in early 1990. As an audiophile and music lover, Heinz 's interest in turntables and analog playback turned into a passion to create turntables, tonearms and analog accessories that were reasonably priced yet that were uncompromised both mechanically and sonically. This passion is what led him and his like-minded colleagues to launch a new business venture named PRO-JECT AUDIO SYSTEMS.
http://www.project-audio.com/
---
Rega Research Limited

Rega's philosophy is to make high quality products at sensible prices, as a means of reproducing music as faithfully as possible.
We are committed to the design and development of new and existing products, both in hi-fi and other areas, that will perpetuate Rega's values of quality and value for money.
By 1983 the time had come for Rega to design and build its own tonearm and so the world famous RB300 (Rega Britain) was born. The high pressure die-cast silicon alloy tube alone took two years to develop alongside the UK's largest die-cast company. The work and our casting subsequently won us an "international casting award" from America for what is still considered today to be a technically impossible casting.
http://www.rega.co.uk/
---