Tuners
Bel Canto

At Bel Canto we recognize that music is an important part of your life. We know because it's an important part of ours as well. We're all looking for those special moments when we dissolve into the music, suspend disbelief and simply enjoy the music. There's nothing like the experience of emotion; when the outside world affects your internal state and changes how you feel. It's what Bel Canto is all about!
Digital to Analog converters, Amplifiers and Source Components complete a compact audio electronics system; efficient, low power consuming products that fit easily into your lifestyle.
http://www.belcantodesign.com/
---
Magnum Dynalab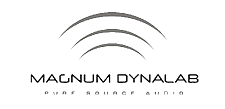 Magnum Dynalab continues to be a family-owned and operated company, committed to using only the highest quality components from world-leading suppliers, while manufacturing all of our products with great care to ensure our customers enjoy pure, unaltered sound for many years.
http://www.magnumdynalab.com/
---