Moving Sale-New Address 12261 Yonge St.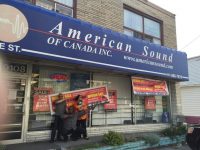 November 2015-UPDATE Well we have completed our Move and have consolidated all of us into one New location, 12261 Yonge Street, at the corner of Yonge and Stouffville Road. Arnold and Leyland and myself invite you to drop in and visit. We have new Audio gear to share with you, Blutooth and media servers that will make your life easier, Of coarse audio quality that will make any audio enthusiasts happy. These are just a few of the exciting electronics available. We have also add a few new lines, BluSound, Aurender, Scansonic speakers, and B&O Play. So please drop in for a visit. We have also launched our New On Line Store which you can link on from our website. Products choices have been added and we will continue to add some new and affordable audio gear. Enjoy and know that we are here for your audio needs. Thanks Angie.
We Are Moving from 9108 Yonge Street to 12261 Yonge Street at the corner of Yonge and Stouffville Road. Location expected to Close by the end of August and Sales are on going on all items in stock, demos, new and used.
After 25 years we have decided to head a little more North. We will be in a house venue and hope to make this a more inviting and comfortable setting.
It is a place I have imaged for years. I am happy to invite you to visit and  experience what I have worked towards. Our Brands are solid, our service is honest and only in your best interest. Our sales staff are salary based and not influenced by anything but what is good for you. Our experience is across the board, from entry level audio/video to Speciality 2 channel Audio. 
We are also Announcing a Special Event on August 22 at the Annex Clearance Center,12261 Yonge Street,Coach House. A One Day Auction Event. Viewing from 10-12 am and we start the auction at 1pm. What's for auction? All the stuff that has been collecting dust, working and non working electronics. Brands you know or brands from the past. If you are a hobbyist you may find stuff you can fix at a bargain.
There will also be choice, old, vintage gear in working order. Perhaps something you always wanted but never purchased and now available at a great price, the price you want to pay.
We welcome all audio enthusiasts, customer, dealers and hobbyists.
---