Audio Research REF 75 Power Amp/REF 75SE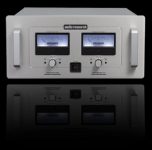 Visually, the Reference 75 hearkens back to past Audio Research products, taking inspiration from earlier amplifier designs.  With its two large VU meters, which display power output as well as provide bias adjustments, the Reference 75 has a timeless appearance resembling precision laboratory equipment and an overbuilt, industrious aesthetic.  Offered in both natural aluminum and black finishes, the understated look will complement any system. The Reference 75 is the new generation from a lineage of amplifiers only Audio Research could produce.  Experience real music and unleash the capacity of your system – music in High Definition®.
Update: New version of the REF 75SE is now on display for you to audition. Now supplied with the new KT-150 tubes. More dynamic and longer lasting. The new amp looks the same with the easy to ready VU meters but you will see a great logo on the top center indicating it is a SE series amp.
Upgrades are available if you are already an owner of the REF 75. Hope to see you soon. Angie
---