T+A Criterion Loudspeakers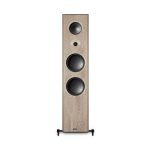 Criterion Loudspeakers

Back in 1982 we developed a unique and truly ground-breaking series of transmission line loudspeakers who-se fundamental design principles are as effective today as ever.
We christened this series Criterion (benchmark), and this original range proved to be one of the most successful speaker designs ever produced.
Ever since its introduction Criterion has been a byword for loudspeakers equipped with uniquely superior tech-nology, offering extraordinarily good sound and unu-sually high performance.
The latest incarnation of the range is named CTL and consists of three floor-standing loudspeakers that are more compact but even better and more powerful than their predecessors. The speakers boast completely new, ultra-modern high-performance drive units and a transmission line design which has undergone further refinement.
We welcome you to visit for an audition. Our demos are in the optional Carbon Fibre finish.
Made in Germany
Note: "These speakers truly amazed me, the ease and fullness was a great surprise. I am a T+A speaker fan." Angie
---