New REL HT/series subwoofers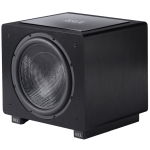 REL - PURE HOME THEATRE SUBWOOFERS
Designed specifically to answer the challenge of crating affordable prices, exceptionally dynamic, pure home theatre powered subwoofers with the ideal combination of light weight, modern
CarbonGlas drivers coupled to the powerful 800 watt Class D amplifier that runs cool, producing extraordinary dynamics.
ADD the HT-Air wireless remote option which will allow wireless connection eliminating cables
NEW HT/1508
Predator-15" carbon fiber reinforced cone with inverted carbon fiber centre cap.Closed box with front firing driver.- Input connections:low level stereo RCA, LFE RCA, LFE XLR.
Intro Price
HT/1205
New 500w Class D power amp-12" CarbonGlas driver-wireless option.
We invite you to visit for an Audition.See website link for more info .
https://rel.net/product-category/serie-ht/
---