Focal EVO Utopia Now in the Shop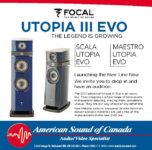 Updated March 14, 2019
Stella Evo expected any day now. We will update once in the shop.
We are excited to introduce the new Generation of the Focal Utopia lll series.
2 models featured: Scala Evo and Maestro Evo
The New series features:
New cabinet reinforcement
New internal wired, made in France.
New crossover to accommodate the new bi-wire/bi amp feature
Improve drivers
New colour options at no extra charge.
Retail Prices (CND) Scala Evo $ 45,000.pair
Maestro Evo $ 75,000. (CND)
rounded figures.
All these new improvements result in a more controlled bass response. Open and coherance presentation from top to bottom.
We invite you to drop in an audition for yourself.
---