Focal Chorus Special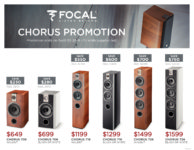 Special Promotion Focal Chorus 700 Series Speakers- Limited Stock.Enjoy one of most popular speakers from one of the leading speaker manufacturing company. Include a pair with one of our amps by Marantz, Denon, Cambridge or NAD. Also, ideal to complete your home theater system, fronts, center or rears. 5 year warranty-Made in France.
Please call ahead to make sure stock and colour is available.
---