Why drop a Brand of products?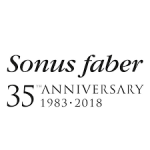 Recently and in the past we have dropped or just parted ways with Brands represented in our shop. It is true that we take the time and consideration of the performance and value of the products that we bring in to our shop. Sometimes it take years of watching a product to ensure that it will serve the test of time and service. But sometimes, we have a wonderful product and for various reasons, which we evaluate yearly, needs to move on. It is only fair that the brand moves on to a place that has more excitement for the brand. Sonus Faber is a product we have offered for 30+ years which remains dear to me but sometimes in business we have to make decisions for business. I have fond memories and admire this fine product line. We are looking forward and continue to explore, evolving with the times. We remain diligent and work hard in the support of all our brands that we are currently representing and continue to support and service many others once represented.
Finally, these decisions are not easy to make as so much care is taken to bring in a product/brand that we fall in love with, something that makes you happy. As a passionate audio vendor for 42+years I will say, "it is an awful feeling to fall out of love".
Feeling, is the key reason I do what I do, Music is falling in Love.
Thanks Angie 42 years in and counting.
March 5, 2019.
---